GTIN Validation
Improve the quality of product data in your Item Masters/Product Catalogues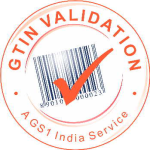 Our GTIN Validation service helps e-tailers, retailers, e-commerce platform providers or content aggregators to ensure that the Global Trade Item Numbers (GTINs) used to uniquely identify products globally are valid and correctly assigned according to GS1 standards. As the organisation that assigns GS1 Company Prefix Numbers (which is the foundation for creating GTINs), we are uniquely positioned to ensure their accuracy and authenticity.
The GTIN Validation service also helps:
With faster product listings
Find duplicate and invalid GTINs (product codes)
Resolve incorrect or conflicting product information
Improve overall data quality of Item Master/Product Catalogues by ensuring proper GTIN usage
Improve accuracy and quality of online and physical product data, ensuring a better customer experience
Empower search engines to provide more precise search results
To know more, email us at gtinvalidation@gs1india.org.